What kind of eye doctor should my child see?
Many parents wonder when and who to take their child to when it comes to eye health. Although perfect vision should come with young age, some children can't see very well. As a parent, you want to make sure that your child's needs are taken care of, and this includes their vision.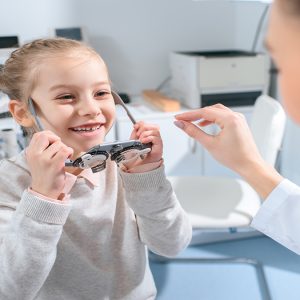 Depending on the child's situation, they can see any optometrist or ophthalmologist who practices family eye care.
Optometrist
Any optometrist can see a pediatric patient as long as they practice family eye care. Optometrists diagnose and treat vision problems such as nearsightedness, farsightedness, cataracts, astigmatism, and more.
Unfortunately, not all young children have perfect vision, and early diagnosis of eye problems is crucial to effective treatment. Children should visit an optometrist at one year old, which is when we at Oklahoma City Vision start seeing patients.
How often?
If your child isn't showing any signs of visual impairment, you can take your child to see an optometrist around the age of one for their first comprehensive eye exam. How often you should take them depends on their age and potential problems.
Children without diagnosed eye diseases or problems should have an eye exam at least once every two years, though it's a better idea to visit once a year. Vision can change quickly, and we want to catch issues as early as possible to help the child better.
It's important not to rely solely on vision screenings that schools may provide because vision screenings cannot pinpoint vision health problems like comprehensive eye exams.
Healthy vision is significant to children's physical, mental, and social development, so it's best to get your child to an eye doctor early on, especially if you suspect vision problems. We know you care about the health of your children, and so do we!