Can an optometrist become an ophthalmologist?
Optometrists and ophthalmologists are both considered "eye doctors." They provide foundational services for the eye care industry, but their job duties are quite different. We talk about this from time to time but let's explore the differences, what it takes to transition between the two, and which one you should see.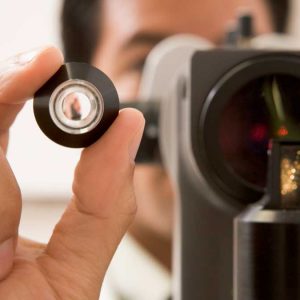 What is an optometrist?
Optometrists are the primary care doctors of the eye care world. They must complete four years of post-graduate education, plus a 1-2 year residency before working on their own. Optometrists conduct eye exams, diagnose optical conditions, prescribe medications for eye treatment, and write prescriptions for corrective lenses.
What is an ophthalmologist?
Among other duties, Ophthalmologists perform eye surgeries. Someone in need of cataracts or glaucoma treatment would possibly be referred to an ophthalmologist by an optometrist. Ophthalmologists complete 12+ years of education before working in the field, including a medical degree (MD), three or more years of residency, and a one-year internship. Some ophthalmologists offer general eye care services, but most choose to focus on their specialties.
Can an optometrist become an ophthalmologist?
An optometrist can become an ophthalmologist, but it is not a quick transition. An optometrist has already taken the steps to earn an optometry degree (OD). To become an ophthalmologist, an optometrist must complete an MD or Ph.D. program, plus a three-year residency and one-year internship. Ideally, someone looking into this profession should focus on that education track early into their grad school studies.
Should I see an optometrist or ophthalmologist?
If you need an eye exam, glasses prescription, or general eye care services, you should see an optometrist. If you're looking for an eye doctor in the Oklahoma City area, you're most likely in need of an optometrist. If you require eye surgery or specialized eye treatment later on, your optometrist can refer you to an ophthalmologist for further care.